Class B Truck Rental Pricing
Class B CDL Truck Rental Pricing
Special Limited Time Offer >>>

$500.00
(Reg $750.00 You Save $250.00)
Information about our Class B CDL trucks we rent:
Our trucks are brand new state of the art 2013 - 2015 Peterbilt 587 models, which is one of Peterbilt's top of the line truck, with full automatic 10 speed Autoshift automatic transmissions. These trucks have only a brake & accelerator pedal, no clutch. To put the truck into the drive gear you just simply touch the digital screen on the dash where the "D" is & the transmission goes into gear. The transmission will automatically shift the transmission up & down for you. To put it into reverse just touch the digital screen where the "R" is and it goes into reverse.
These trucks are very easy trucks to drive; just like driving a Chevy, Dodge or Ford pickup truck.

We have 18-year-old girls that do road tests every month.
SPECIAL NOTE:
There is NO restriction on a license in Texas when using a automatic transmission
on the TXDPS road test with the TXDPS examiner.
Truck Rental

Rental Price

Description

Waco

, TX

$500.00

**

**Limited Time Offer**

$500.00** (You save $750)

Waco, Kilgore, Canton / Terrell, Dallas Mega TXDPS CDL Testing Centers

Waco is the 1st easiest road test in the State of Texas.

Kilgore, Canton / Terrell is the 2nd easiest road test in the State of Texas.

Dallas Mega is our 3rd option

You want the easiest road test...???

Waco is the easiest road test in the State of Texas.

This price is for the truck rental for the Class B CDL Truck Rental only.This price does not include the instructor, insurance, fuel & scheduling. This is an additional $260.00 paid to the instructor in cash on the day you come to practice with out instructor before your TXDPS scheduled road test.

Truck Rental includes:
Class B Truck
TXDOT & USDOT Licensing


Requirements to take a TXDPS road test:
Completion of all 5 written exams
Class B permit & DOT medical card

5 REASONS

WHY OUR TXDPS OFFICES ARE MUCH EASIER TO PASS THE ROAD THAN THE TXDPS OFFICE CLOSE TO WHERE YOU LIVE:

Reason #1) All other TXDPS office's, including the office in your area; road tests generally take 1 hour up to 1 hour & 30 minutes depending on the examiner. The TXDPS offices we like to go to their class B road test takes 15 to 22 minutes on an average, again depending on the examiner.

Reason #2) Most every TXDPS office in the state has a box marked out to parallel park the truck with no pull ups allowed. When parallel parking if you cannot perfectly park the truck 10" to 12" off the curb on the first try with no pull-ups then most examiners will fail you. The TXDPS offices we like to go to have no box to parallel the truck in. 98% of our clients only lose 0 to 4 points on the backing scoring a 94% - 98% on the road test. One TXDPS office in particular, the only office in the state, will not fail anyone on the backing. As long as you make the attempt to back and attempt to parrallel park this office will only take a few points off.

Reason #3) All other TXDPS offices have curbs, traffic lights and heavy traffic. If you touch a curb then you fail the test. If you run, or get caught in, a red light you fail. If you pull out in front of a car and impede traffic slowing the car down you fail. Our TXDPS office has no curbs, no traffic lights & very little to no traffic.

Reason #4) Most TXDPS offices are making people do a pre-trip inspection. There is no pre-trip inspection at the TXDPS offices we prefer.

Reason #5) Before you even get to do the actual road test you must pass the air brake test on the truck. If you mess up on the air brake test and miss a step at any other driver license office in the state of Texas the TXDPS examiner will terminate your road test failing you where you will have to reschedule. TXDPS office examiners at a few offices we go to will allow you to correct yourself if you miss a step on the air brake test. In some cases the TXDPS examiner will show you how to do the air brake test then advancing you on to the road test.

With all of these 5 reasons to help you pass the CDL road test these are the easiest TXDPS offices in the State of Texas to pass a road test on the first try.

*The fuel, insurance, instructor & scheduling is an additional $260.00.

**The $250 special does not include the fuel, insurance, instructor & scheduling. The fee for these services are $260.00.

Kilgore

, TX

$500.00

**

Canton / Terrell

, TX

$500.00

**

Dallas Mega

, TX

$500.00

**
You May Purchase Additional Private One On One In-Truck Training
Training

Price

Description

1 Hour Minimum

$250.00

The 1 hour training includes:
Licensed class A CDL instructor
Class B Truck
USDOT & TXDOT Licensing
Insurance
Fuel

Requires:
Class B Permit


Additional Training is to polish driving skills before they take the CDL Road Test, Straight Line Backing, Parallel Parking, Turning... etc.

Please call for other DMVs not listed. We service all counties in Texas

Each Additional Hour

$250.00

2 Hour Special

$400.00

A $500.00 Value (You Save $100.00)
Certification
Certification Program

Price

Description

Entry Level Driver Training Certificate

$225.00

An entry level driver who will begin operating a commercial vehicle in interstate commerce on or after July 21, 2004, must recieve this training and certificate before driving a commercial vehicle for hire in interstate commerce.

Required by the FMCSA to be legal to drive in interstate commerce for hire. You cannot legally operate a CDL vehicle without this certificate.
*PRICES ARE SUBJECT TO CHANGE DUE TO THE LOCATION OF THE TXDPS OFFICE, AVAILABILITY OF A TRUCK, NEW DOT REGULATIONS, FUEL COSTS AND NEW PROGRAMS WE OFFER.

*ALL SALES ARE FINAL! NO REFUNDS!

*THERE ARE NO REFUNDS ON TRUCK RENTAL DEPOSITS!
*THERE ARE NO REFUNDS ON ACCESS TO THE ONLINE TESTS
*PRICES CAN CHANGE WITHOUT NOTICE. NEW PRICING MAY NOT BE UPDATED ON THE SITE.
TEXAS CDL SKILLS TESTING LOCATIONS

Schedule a Class A or B CDL Skills Test Appointment at one of the 29 Driver License Offices listed below:
Note: The offices listed below reflect CDL Skills Test locations and do not necessarily reflect the actual CDL Driver License Office.
Sites underlined are temporary locations that conduct CDL Skills Tests and are not actual Driver License Office locations. You will be directed here upon successful completion of your CDL application.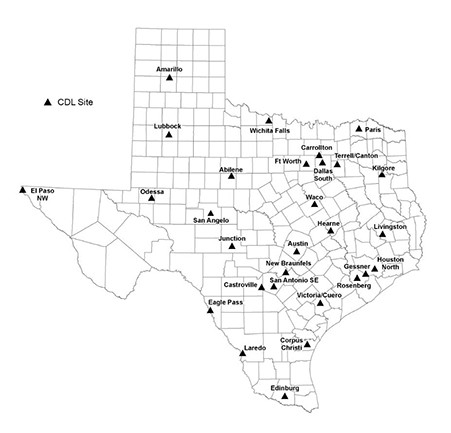 Abilene
4649 South 1st
Abilene, TX 79605
Amarillo
6592 E. I-40
Amarillo, TX 79118
Austin
9725 S IH 35 Frontage Rd
Austin, TX 78744
Carrollton
Driver License Center
4600 State Highway 121
Carrollton, TX 75010
Castroville
8366 FM 471 South
Castroville, TX 78009
Corpus Christi
3506 Twin River Blvd
Corpus Christi, TX 78410
Cuero
269 US 183 (US 87)
Cuero, TX 77954
(Across from McMahon Welding)
Dallas South
Driver License Center
39025 LBJ Service Rd
Dallas, TX 75232
Eagle Pass
32 Foster – Maldonado Blvd
Eagle Pass, TX 78852
Edinburg
5160 N IH 69C
Edinburg, TX 78542
El Paso Northwest
8799 South Desert Blvd
Anthony, TX 79821
Ft Worth
Driver License Center
8301 Brentwood Stair Rd
Ft. Worth, TX 76120
Houston Gessner
Driver License Center
12220 S Gessner Rd
Houston, TX 77071
Houston North
Driver License Center
8418 Veterans Memorial Blvd
Houston, TX 77088
Hearne
12511 Airport Road
Hearne, TX 77859
Junction
1125 N US Hwy 83
Junction, TX 76849
(Thursdays only)
Kilgore
4831 FM 349
Kilgore, TX 75662
Laredo
1901 Bob Bullock Loop
Laredo, TX 78043
Livingston
3161 US Hwy 59N
Livingston, TX 77351
Lubbock
1404 Lubbock Business Park Blvd
Lubbock, TX 79403
New Braunfels
119 Conrads Road
New Braunfels, TX 78130
Odessa/Midland Driver
License Center
2800 Wright Dr
Midland, TX 79706
Paris
4255 Bonham St
Paris, TX 75460
Rosenberg
Driver License Center
28000 SW Freeway
Rosenberg, TX 77471
San Angelo
669 E 40th St
San Angelo, TX 76903
San Antonio Southeast
6502 S New Braunfels St
San Antonio, TX 78223
Terrell/Canton
15500 FM1255
Canton, TX 75103
Waco CDL
106 Jewell Dr
Waco, TX 76712
Wichita Falls
5505 N Central Expressway
Wichita Falls, TX 79306